Building successfully in steel requires a carefully selected combination of the right products, optimised design, and specialised engineering, making the ICCONS' Structnail® range of innovative steel frame fasteners a game changer in this space.
Structnail® is a nailing system dedicated for steel frames that eliminates installation inefficiencies on your job by enabling the steel frame construction or install to be more time- effective than conventional installation methods such as screws. 
The Structnail® Gripshank™ SuperSharpy™ branded nails are specifically designed and engineered for installation for a wide range of materials and provide excellent pull-out and shear loads into steel frame sections as thin as 0.55mm .
The engineered 'super sharp' point and  'gripshank' knurling create an instant fused connection impressively simple and with rapid fire installation speed that is unmatched by traditional screw or riveting systems.
The applications for Structnail® are plentiful and really come into their own with external cladding applications, starting with the building wrap which is simply installed with the nail/washer combination.
Ply bracing, thermal break fastening and external nailing  of the cladding back to the steel frame provides the finished fix with a variety of nail lengths to suit various applications.
Additional other structural steel frame applications include plated lintels and cross bracing support fixing.
ICCONS PT2000 proprietary coating ensures warranty compliance for external applications to a category 3 level and all nails are head stamped to ensure brand traceability and quality assurance.
NHS is stocking the ICCONS® Structnail® range at all three branches.
Features and Benefits of using Structnail®
Pneumatic driven for rapid and ease of install.
Helical design for high performance in steel.
Standard collation to fit multiple 15 Degree coil nailer brands.
Engineered point and knurled shank for fastening into 0.55 to 2.5mm steel
PT2000 coating for up to external category 3 applications
High pull-out loads
Made in the USA
6-8 times faster installation than conventional methods
No pre-drilling required
Approved with industry leading cladding systems such as James Hardie and Weathertex
Perfect for both on-site and off-site installation (prefab steel frame construction)
ICCONS Structnail® Gripshank™ Supersharpy™ comes complete with approvals for use with major players in the cladding space – James Hardie's product details are listed below as per their technical specification and Weathertex details are to follow later this month.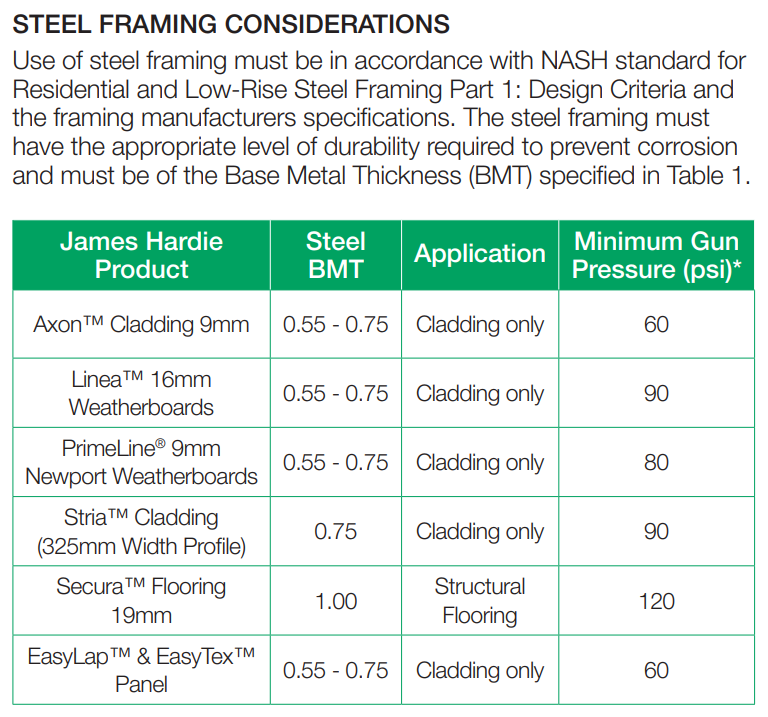 To see the full range of James Hardie and Weathertex approved cladding and flooring systems please download the respective Technical Guides and Specification.
You can go straight to your chosen James Hardie product on this site to instantly download the applicable tech guides.
ICCONS® as a member of the National Association of Steel-Framed Housing (NASH) continues to work alongside industry leaders and develop more efficient and effective fastening solutions for builders.
For more information or an onsite demonstration on how Structnail® can help with your next steel frame project, simply get in touch with us here and we'll be happy to help out.
Shop online for the ICCONS Structnail® Gripshank™ Supersharpy™